5'4″ / 99 lbs

32C-28-33

Black / Hazel

27 Years Old
Ariana Marie has a sweet and charming personality and is really a pornstar that you want to know better. This Ariana Marie biography presents details about her personal life, as a well as her sexual preferences. Also, we cover her sex life before porn, some of her wild experiences, as well as her love of anal and creampies.
Hali Marie Waumans (Ariana Marie's real name) was born on April 13, 1993 in Dallas, Texas. Ariana has an older brother and an older sister, making her the youngest in a family of three children. When she was young, her father got a job transfer which brought her family to Clearwater, Florida where she grew up.
She says that her tits started growing in when she was in the 8th grade, and remembers that in gym class girls were wearing bras, while Ariana was wearing a training bra. Her tits really started to perk out when she got to high school. Obviously, her amazing tits brought her lots of attention from boys.
Ariana lost her virginity when was 16 years old with her boyfriend. They started talking about sex, but waited a few months before doing the deed. Her first time was a bit scary for her, since her parents were in the kitchen across the hall from her bedroom.
She dated her boyfriend for a year, but after they broke up she moved on to two other boyfriends during her high school years. She was not one to simply hook up with someone.
Before porn, Ariana was with a total of 6 guys. She was never with girls before porn but did make out a bit with her best friend when she went to parties.
The first person that Ariana told that she was doing porn was her sister. They are very close, and growing up she told her sister everything. She eventually told her parents, and was worried about how her father would react since she has always been daddy's little girl.
This section of the Ariana Marie biography provides further information regards to her sexual and personal preferences.
Her favorite porn scene is her performance with Mr. Pete with Naughty America. She loves to watch this scene while she is masturbating. She admits that she loves her Hitachi and masturbates about twice a day, resulting in numerous orgasms. Jenna Jameson and Jenna Haze are just two of her favorite pornstars to watch.
Her favorite sexual position is doggie style, and she also likes to spoon. Sexually, she loves to bite her partner's ears.
She does enjoy herself when she is shooting porn, and on cums about twice per scene.
When a guy pops his load, she loves it on her face and enjoys swallowing. She never tasted cum before porn, but once she got a taste, she became an avid cum swallower. She also loves creampies too, but prefers to swallow.
Being a Florida girl, Ariana loves heading to the beach and go jet skiing, boating, and fishing. When she visits home, she always visits Busch Gardens.
She is into most types of music, but mainly listens to hip hop and some rap music. Her favorite movie is Superbad. Her favorite TV show is Family Guy.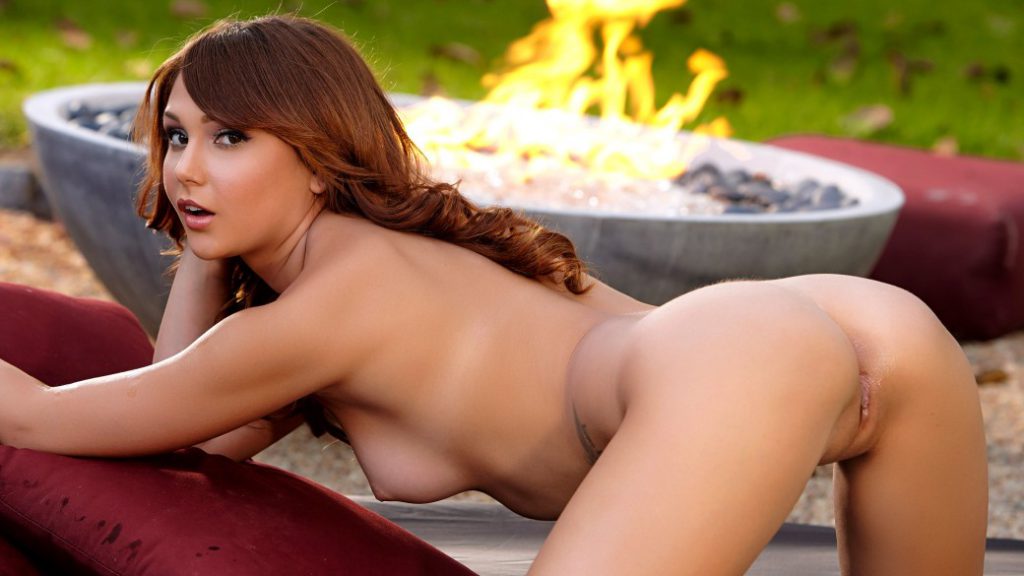 Just a single glance at gorgeous tramp spinner Ariana Marie is enough to understand how she once made a guy cum in ten seconds. Whether she has her hair dolled up in little kiss curls or sleek and straight, she is always a knockout. Her most preferred pastime is travelling the highway with wind in her hair, and a heavy, vibrating motorcycle between her shapely thighs.
This princess-next-door is so soft-spoken and breathtaking, you'll have trouble believing she's down to lick cunt, but once you've experienced her unbridled enthusiasm for a stiff cock, you won't question her dedication. Ariana has worked hard for her stunning physique, and she's been generous enough to share her flat stomach and slim thighs with the world. She places on the best newcomer pornstars list because her glowing smile is addictively attractive and her booty is perfectly matched with her perfect breasts. Ariana absolutely enjoys sex and enjoys getting naughty, so if you want to see how fun it is when a great girl goes bad, check out this aroused honey in her smouldering scenes.
The year 2013 was made better with Ariana Marie launching her pornstar career. When Ariana Marie became 20, she made the decision to make her first appearance in the adult porn world. She has been in the porn business for 8 years and has screwed in over 415 porn movies. Some of her most freshest horny screaming orgasms can be seen in Best of Brazzers Pantyhose by Brazzers Network, and Big Black Chair by Twistysnetwork.com.She has been nominated for 72 awards and has won a few. Some of her more recent awards include the 2017 Spank Bank Award for Tightest Twat, the 2019 Spank Bank Award for Best Legs and the 2015 Spank Bank Technical Award for Ariana Grande's Sluttier Doppleganger.
Ariana Marie Biography Summary
Ariana Marie was born in Dallas, Texas on 15-Mar-1993 which makes her a Pisces. Her measurements are 32C-28-33, she weighs in at 99 lbs (45 kg) and stands at 5'4″ (162 cm). Her body is slim with real/natural 32C (70C) firm tits. She has bright hazel eyes and silky black hair.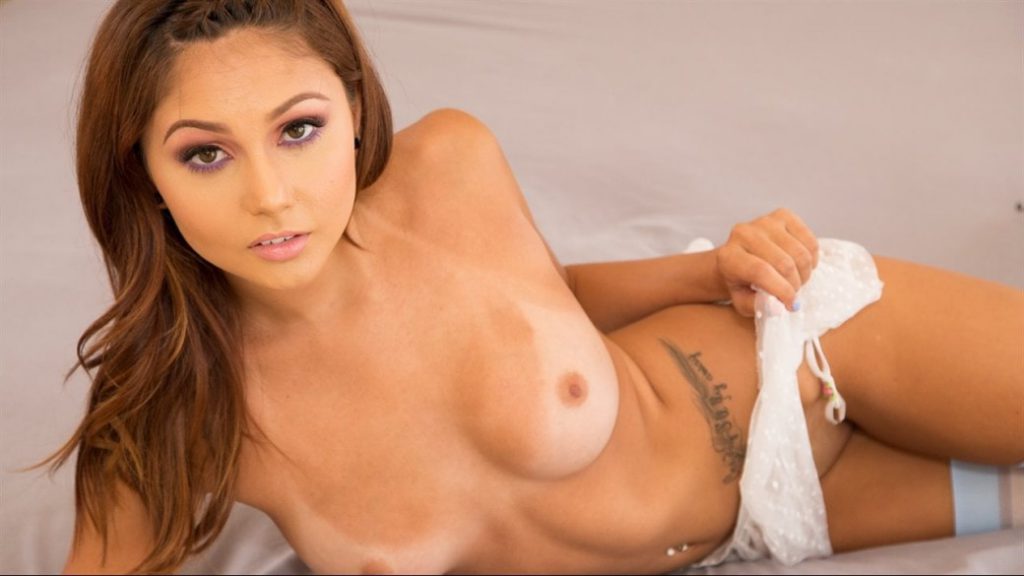 Ariana Marie Biography Awards
2020 Award Wins and Nominations
AVN Awards – Nominee: Fan Award: Favorite Female Porn Star
AVN Awards – Nominee: Best Three-Way Sex Scene – B/B/G, Doe Projects 12788 (2018)
AVN Awards – Nominee: Best Three-Way Sex Scene: G/G/B, Hardcore Threesomes 3 (2019)
Spank Bank Awards – Nominee: Best Legs
Spank Bank Awards – Nominee: Best 'After' Hair
Spank Bank Awards – Nominee: Most Beautiful Seductress
Spank Bank Awards – Nominee: Areola of the Gods
Spank Bank Awards – Nominee: Master of Missionary
XBiz Awards – Nominee: Best Sex Scene – Vignette, Anal Threesomes 5 (2019)
2019 Award Wins and Nominations
AVN Awards – Nominee: Best Three-Way Sex Scene – B/B/G, I Know Who You Fucked Last Halloween (2018)
AVN Awards – Nominee: Female Performer of the Year
AVN Awards – Nominee: Best Virtual Reality Sex Scene, Fidelo: The Penthouse Soiree (2018)
AVN Awards – Nominee: Best Three-Way Sex Scene: G/G/B, Icons (2018)
AVN Awards – Nominee: Best Double Penetration Sex Scene, Ariana Marie: A Little Bit Harder (2018)
AVN Awards – Nominee: Best Girl/Girl Sex Scene, Ariana Marie: A Little Bit Harder (2018)
AVN Awards – Nominee: Best Boy/Girl Sex Scene, XXX Parodies (2018)
AVN Awards – Nominee: Best All-Girl Group Sex Scene, I Know Who You Fucked Last Halloween (2018)
AVN Awards – Nominee: Best Body
Spank Bank Awards – Nominee: VR Star of the Year
Spank Bank Awards – Nominee: Threesome Savant of the Year
Spank Bank Awards – Nominee: The Sexiest Woman Alive
Spank Bank Awards – Nominee: The Dirty Little Slut of the Year (FPOTY)
Spank Bank Awards – Nominee: Queen of Cunnilingus (Girl/Girl Star of the Year)
Spank Bank Awards – Nominee: Porn's 'It' Girl
Spank Bank Awards – Nominee: Most Photogenic Nymphomaniac
Spank Bank Awards – Nominee: Most Beautiful Seductress
Spank Bank Awards – Nominee: Excellence in Muff Maintenance (Best Groomed Bush)
Spank Bank Awards – Nominee: Bewitching Brunette of the Year
Spank Bank Awards – Nominee: Master of Missionary
Spank Bank Awards – Winner: Best Legs
Spank Bank Awards – Nominee: Areola of the Gods
Spank Bank Technical Awards – Winner: Best Food Palate
XBiz Awards – Nominee: Best Scene – Clip Site, Ocean Drive (2018)
XRCO Awards – Nominee: Awesome Analist
XRCO Awards – Nominee: Star Showcase, Ariana Marie: A Little Bit Harder (2018)
2018 Award Wins and Nominations
AVN Awards – Nominee: Best Body
AVN Awards – Nominee: Best Female Performer
AVN Awards – Nominee: Best Three-Way Sex Scene: G/G/B, Art of Anal Sex 4 (2017)
AVN Awards – Nominee: Best Three-Way Sex Scene – B/B/G, Nerds (2017)
AVN Awards – Nominee: Best Anal Sex Scene, Natural Beauties 2 (2016)
Spank Bank Awards – Nominee: Pretty In Pink (Prettiest Pussy)
Spank Bank Awards – Nominee: Tightest Vag
Spank Bank Awards – Nominee: Sharing Is Caring (Cumswapping Cutie of the Year)
Spank Bank Awards – Nominee: Most Beautiful Seductress
Spank Bank Awards – Nominee: Prettiest Girl In Porn
Spank Bank Awards – Nominee: Porn's 'It' Girl
Spank Bank Awards – Nominee: Most Talented Tongue (Best Girl/Girl Kisser of the Year)
Spank Bank Awards – Nominee: Most Photogenic Nymphomaniac
Spank Bank Awards – Nominee: Excellence in 'Lawn' Maintenance (Best Groomed Bush)
Spank Bank Awards – Nominee: Best Legs
Spank Bank Technical Awards – Winner: Best Lingerie / Heels Collection
XBiz Awards – Nominee: Female Performer of the Year
2017 Award Wins and Nominations
AVN Awards – Nominee: Best Anal Sex Scene, Art of Anal Sex 2 (2016)
AVN Awards – Nominee: Best Girl/Girl Sex Scene, Let It Ride (2016)
Spank Bank Awards – Winner: Tightest Twat
Spank Bank Awards – Nominee: Pretty In Pink (aka Prettiest Pussy)
Spank Bank Awards – Nominee: Best Legs
Spank Bank Awards – Nominee: Best 'O' Face
Spank Bank Awards – Nominee: Most Photogenic Nymphomaniac
Spank Bank Awards – Nominee: Prettiest Girl In Porn
XBiz Awards – Nominee: Best Scene – Vignette Release, Art of Anal Sex 2 (2016)
2016 Award Wins and Nominations
AVN Awards – Nominee: Best Three-Way Sex Scene: G/G/B, Just Jillian (2015)
AVN Awards – Nominee: Best Three-Way Sex Scene – B/B/G, Slut Puppies 9 (2014)
Spank Bank Awards – Nominee: Most Adorable Slut
Spank Bank Awards – Nominee: Born To Hand Job
Spank Bank Awards – Nominee: Tightest Twat
XBiz Awards – Nominee: Best Scene – All-Sex Release, Just Jillian (2015)
2015 Award Wins and Nominations
AVN Awards – Nominee: Fan Award: Cutest Newcomer
AVN Awards – Nominee: Best New Starlet
AVN Awards – Nominee: Best Three-Way Sex Scene: G/G/B, Keisha (2014)
Spank Bank Awards – Nominee: Prettiest Girl In Porn
Spank Bank Awards – Nominee: America's Porn Sweetheart
Spank Bank Awards – Nominee: Most Adorable Slut
Spank Bank Technical Awards – Winner: Ariana Grande's Sluttier Doppleganger
XBiz Awards – Nominee: Best New Starlet
2014 Award Wins and Nominations
AVN Awards – Nominee: Best New Starlet
Nightmoves Fan Awards – Nominee: Best New Starlet
Ariana Marie Biography References