5'8″ / 121 lbs

34D-24-32

Black / Hazel

32 Years Old
Romi Rain exudes sexual prowess and is a very open person with an effervescent personality. Since she exploded onto the adult industry, she has gained legions of loyal fans. This Romi Rain biography presents details about her personal life, as a well as her sexual preferences. She has had a lot of success in the porn world by winning numerous awards as well as hosting the AVN awards.
Romi was born in Boston on January 12, 1988 which is surprising to her that she was born in the wintertime since she hates the cold. Though she loves her hometown and misses her friends and family there. Being primarily of Italian descent, Romi grew up in mostly in Dorchester, and lived around the Massachusetts.
During her school years, Romi admits being a class clown and always having big tits which garnered her lots of attention. As a teenager, she worked as a waitress at Chilli's, scooped ice cream at Friendly's, waited tables, and at the Guess Jeans department store.
Romi lost her virginity a bit on the late side when she as 18 years old. Before this, she says that she was very sexual, always talked about sex, and started masturbating as soon as she hit puberty. Though she was hyper-sexual but was never outwardly slutty. She was never very promiscuous, but when she fond someone that she wanted to fuck, she fucked them frequently.
She was a late bloomer when she started having sex, but certainly made up for lost time.
Romi was always curious about porn, and it was always in the back of her mind. She got her start when she was dancing in Los Angeles under the name of Rain, which is where her last name came from. She also started doing some glamour shoots, and nude modeling.
She was featured in a six-page pictorial in Hustler in the February 2013 issue, and also started doing some girl/girl shoots on webcam. She dipped her toes into the porn world by first doing girl/girl scenes for the first 4 to 5 months, but then shot her first boy/girl scene with Naughty America, and her second boy/girl scene with Brazzers the very next day.
This section of the Romi Rain biography provides further information regards to her sexual and personal preferences.
Romi really does cum in almost every one of her scenes and says that she is not a faker. She is a bit self-conscious about having an orgasm as she does silly things like twitching around or making really weird faces. For Romi, she cums a lot more from penetration than from clitoral stimulation and can have multiple orgasms if she is being fucked properly.
Romi is very much into anal but prefers double penetration over just straight anal. She is very much cognizant of shooting good scenes and doesn't want to overshoot anal scenes.
Romi is happy that she doesn't need to masturbate that often, but still does a few times a week.
When her stud pops, Romi prefers that he cums inside of her, but on screen that rarely happens. She loves facials and loves playing with cum on her face. She also loves to swallow cum when the guy blows in her mouth.
Romi is very good at impressions and has a very good verbal memory. She is also into video games, especially the shooting and fighting ones. She is mostly a homebody and is not much of a party girl.
She prefers the outdoors and loves going hiking and heading to the beach. The days that she is not shooting hardcore porn, she will be at home watching movies and cooking.
Obviously, she loves to cook Italian food. Breakfast is her favorite meal with pancakes, French toast and omelets.
She loves Tarantino, suspense, thrillers, and psychological movies. Romi was raised on rock and roll music, but is also into R&B, hip hop, and groove music. She is a big fan of Breaking Bad, Dexter, and similarly themed TV shows.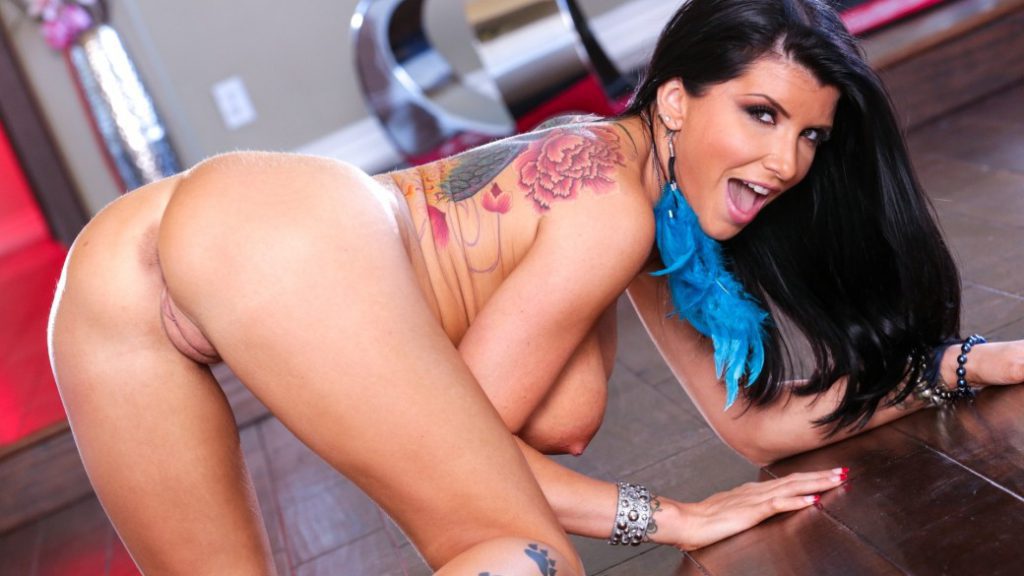 With tanned skin and a perfect body, it's hard to not obsessive over Romi Rain. Like a beacon broadcasting her raw sexual energy, this babe's juicy booty may have gotten her in the adult film industry, but her blowjob lips and unmistakable seductive maturity has made her a rising starlet. An immensely fuckable fox, a ravenous and seductive cougar, and a fiery and vibrant fox, Romi nails every button we have, hard.
Incredibly tiny, with a perfect face, wide stunning eyes, and plush pouty lips, Romi is flat out lovely. Romi admitted the hottest sex she ever had was once she answered the phone and followed every direction given by the stranger's voice all the way to a happy ending. Romi is one of the best newcomer pornstars due to her gorgeous looks, perfect handfuls of breasts and ass, and attractive eyes. Watch one of her alluring videos, and she'll have you calling her mistress in no occasion.
Romi Rain made her entry in the porn world in 2012. When Romi Rain turned 24, she resolved to make her debut in the adult porn world. Over 9 years, and 646 porn sex scenes later, Romi Rain is still wanting to suck some more dick, and lick some more snatch. Great examples of her most latest very hot performances can be found in Art of the Orgy 2 by Wicked Pictures, and Axel Braun's Busty Hotwives 2 by Wicked Pictures.She has been nominated for 137 awards and has acquired some. Some of her more recent honors include the 2015 Inked Award for Female Performer of the Year, the 2015 Inked Award for Best Boobs and the 2014 Nightmoves Fan Award for Best Ink.
Romi Rain Biography Summary
Romi Rain was born in Boston, MA, USA on 12-Jan-1988 which makes her a Capricorn. Her measurements are 34D-24-32, she weighs in at 121 lbs (55 kg) and stands at 5'8″ (172 cm). Her body is slim with fake/enhanced 34E (75E) sensitive tits. She has captivating hazel eyes and pretty black hair.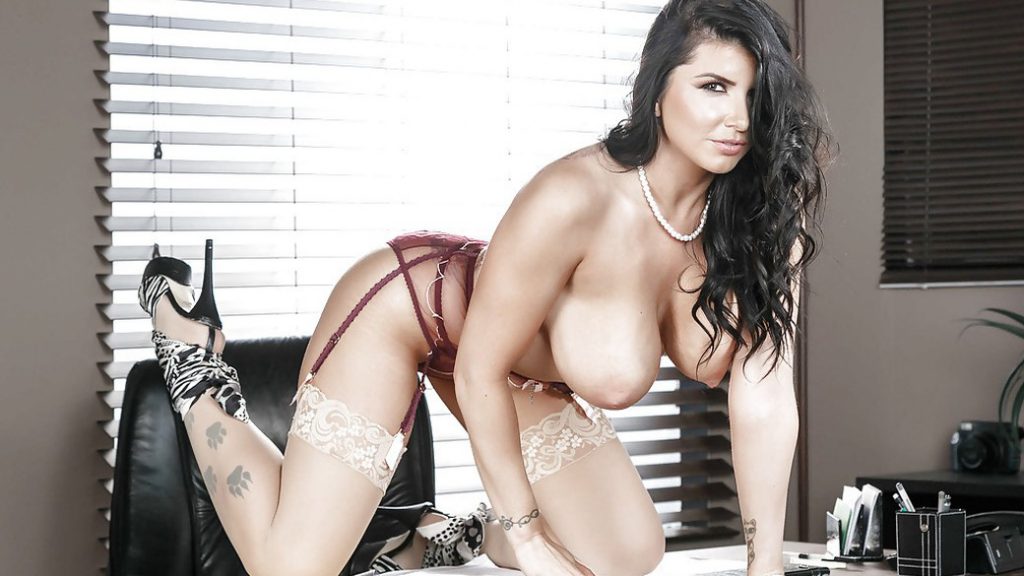 Romi Rain Biography Awards
2020 Award Wins and Nominations
AVN Awards – Nominee: Fan Award: Social Media Star
AVN Awards – Nominee: Fan Award: Most Spectacular Boobs
AVN Awards – Nominee: Fan Award: Favorite Female Porn Star
Altporn Awards – Nominee: Best Female Performer of the Year
Spank Bank Awards – Winner: Oral Authority of the Year
Spank Bank Awards – Nominee: Most Voluptuous Vixen
Spank Bank Awards – Nominee: Most Comprehensive Utilization of All Orifices
Spank Bank Awards – Nominee: Horny Housewife of the Year
Spank Bank Awards – Nominee: Tattooed Temptress of the Year
Spank Bank Awards – Nominee: Buxom Beauty of the Year
Spank Bank Awards – Nominee: Contessa of Cum
Spank Bank Awards – Nominee: Undisputed Twitter Champion of the Year
Spank Bank Awards – Nominee: Group / Orgy Maestro of the Year
Spank Bank Technical Awards – Winner: Much More Than 'A Mouthful'
XBiz Awards – Nominee: Best Sex Scene – Comedy, Motorbunny Club 8 (2019)
XBiz Awards – Nominee: Female Performer of the Year
XBiz Awards – Nominee: Best Sex Scene – Virtual Reality, Secret NYE VR Porn Party With You and Seven Porn Stars (2019)
XBiz Awards – Nominee: Best Actress – Comedy Movie, Killer Wives (2019)
2019 Award Wins and Nominations
AVN Awards – Nominee: Best Supporting Actress, Seduction of Heidi (2018)
AVN Awards – Nominee: Best Solo/Tease Performance, Bounce 2 (2018)
AVN Awards – Nominee: Best Three-Way Sex Scene – B/B/G, Seduction of Heidi (2018)
AVN Awards – Nominee: Most Outrageous Sex Scene, Xander's World Tour (2018)
Altporn Awards – Nominee: Female Performer of the Year
Inked Awards – Nominee: Best Actress
Inked Awards – Nominee: Best Boobs
Inked Awards – Nominee: Best Social Media Star
Inked Awards – Nominee: Best Oral
Inked Awards – Nominee: Social Media Queen
Inked Awards – Nominee: Female Performer of the Year
Inked Awards – Nominee: Best Anal
Inked Awards – Nominee: Best Ink
Spank Bank Awards – Nominee: POV Perfectionist of the Year
Spank Bank Awards – Nominee: Miss Congeniality
Spank Bank Awards – Nominee: Instagram Girl of the Year
Spank Bank Awards – Nominee: Hardest Working Ho in Ho Biz
Spank Bank Awards – Nominee: Cosplay Queen
Spank Bank Awards – Winner: Tattooed Temptress of the Year
Spank Bank Awards – Nominee: Threesome Savant of the Year
Spank Bank Awards – Nominee: Tweeting Twat of the Year
Spank Bank Awards – Nominee: Bewitching Brunette of the Year
Spank Bank Awards – Nominee: Boobalicious Babe of the Year
Spank Bank Awards – Nominee: Best Supporting Mattress Actress
Spank Bank Awards – Nominee: Best Body Built For Sin
Spank Bank Awards – Nominee: Best All Around Porn Goddess
Spank Bank Technical Awards – Winner: Wonder Woman's Cosplay Idol
Urban X Awards – Nominee: Hottest Inked Star
XBiz Awards – Nominee: Best Scene – Clip Site, Rocking the Stage (2018)
XBiz Awards – Winner: Best Sex Scene – Comedy Release
XBiz Awards – Nominee: Best Sex Scene – Comedy Release, Deadpool XXX (2018)
XBiz Awards – Nominee: Female Performer of the Year
XBiz Awards – Nominee: Best Sex Scene – Couples-Themed Release, Dark Obsession (2017)
XBiz Awards – Nominee: Best Sex Scene – Vignette Release, Naughty Office 51 (2018)
XBiz Awards – Nominee: Best Sex Scene – Virtual Reality, Death Knight Rehab: Jaheira (2018)
XBiz Awards – Winner: Best Sex Scene – Comedy Release, Metal Massage (2018)
2018 Award Wins and Nominations
AVN Awards – Nominee: Best Solo/Tease Performance, MILF Fidelity (2017)
AVN Awards – Nominee: Best Group Sex Scene, Justice League XXX: An Axel Braun Parody (2017)
AVN Awards – Nominee: Best Actress, Justice League XXX: An Axel Braun Parody (2017)
Inked Awards – Nominee: Best Female Performer
Inked Awards – Nominee: Best Boobs
Inked Awards – Nominee: Social Media Queen
Inked Awards – Nominee: Best Group Scene, Big Black Cock FTW (2018)
Inked Awards – Nominee: Best Girl-Girl Scene, Net Skirts 17.0 (2017)
Inked Awards – Nominee: Best Anal Performer
Inked Awards – Nominee: Best Ink
Spank Bank Awards – Nominee: Cosplay Queen
Spank Bank Awards – Winner: Best 'Just Got Fucked' Hair
Spank Bank Awards – Nominee: Bewitching Brunette of the Year
Spank Bank Awards – Nominee: Boobalicious Babe of the Year
Spank Bank Awards – Nominee: Contessa of Cum
Spank Bank Awards – Nominee: The Dirty Little Slut of the Year
Spank Bank Awards – Winner: Mattress Actress of the Year
Spank Bank Awards – Nominee: Snapchat Sweetheart of the Year
Spank Bank Awards – Nominee: Tattooed Temptress of the Year
Spank Bank Awards – Nominee: The Sexiest Woman Alive
Spank Bank Awards – Nominee: The Total Package
Spank Bank Awards – Nominee: Tweeting Twat of the Year
Spank Bank Awards – Nominee: Baroness of Licking Lady Ass
Spank Bank Awards – Nominee: Best All Around Porn Goddess
Spank Bank Awards – Nominee: Best Body Built For Sin
Spank Bank Technical Awards – Winner: Most Accommodating Jizz Biz Mentor
XBiz Awards – Winner: Female Performer of the Year
XBiz Awards – Nominee: Best Actress – Feature Release, Justice League XXX: An Axel Braun Parody (2017)
XBiz Awards – Nominee: Best Actress – Feature Release, Queen of Thrones (2017)
XBiz Awards – Nominee: Best Scene – Feature Release, Justice League XXX: An Axel Braun Parody (2017)
XCritic Awards – Nominee: Best Actress, Justice League XXX: An Axel Braun Parody (2017)
2017 Award Wins and Nominations
AVN Awards – Nominee: Best All-Girl Group Sex Scene, Ghostbusters XXX Parody (2016)
AVN Awards – Nominee: Best Three-Way Sex Scene: G/G/B, Deadly Rain (2016)
AVN Awards – Nominee: Best Anal Sex Scene, In The Ass, At Last (2016)
Spank Bank Awards – Nominee: Bad Ass Brunette of the Year
Spank Bank Awards – Nominee: Best All Around Porn Goddess
Spank Bank Awards – Nominee: The Dirtiest Player in the Game
Spank Bank Awards – Nominee: Tattooed Temptress of the Year
Spank Bank Awards – Nominee: Mattress Actress of the Year
Spank Bank Awards – Nominee: Cuckold Connoisseur of the Year
Spank Bank Awards – Winner: Contessa of Cum
Spank Bank Awards – Nominee: Boobalicious Babe of the Year
Spank Bank Awards – Nominee: Best 'Just Got Fucked' Hair
Spank Bank Awards – Nominee: Best Body Built For Sin
Spank Bank Awards – Nominee: Most Comprehensive Utilization of All Orifices
Spank Bank Technical Awards – Winner: Sexiest Sci-Fi Geek
Spank Bank Technical Awards – Winner: Most Likely To Crush You in a Debate AND Kick You in the Balls
XBiz Awards – Nominee: Female Performer of the Year
XBiz Awards – Nominee: Best Actress – Couples-Themed Release, Open Relationship (2015)
XRCO Awards – Nominee: Orgasmic Analist of the Year
2016 Award Wins and Nominations
AVN Awards – Nominee: Best Porn Star Website
AVN Awards – Nominee: Best Oral Sex Scene, Triple BJs (2015)
AVN Awards – Nominee: Best Three-Way Sex Scene: G/G/B, My Sinful Life (2014)
AVN Awards – Nominee: Fan Award: Favorite Female Porn Star
AVN Awards – Nominee: Female Performer of the Year
AVN Awards – Nominee: Best Group Sex Scene, Brazzers House (2015)
Spank Bank Awards – Nominee: Most Luxurious Labia
Spank Bank Awards – Nominee: Most Comprehensive Utilization of All Orifices
Spank Bank Awards – Nominee: Hardest Working Ho in Ho Biz
Spank Bank Awards – Winner: Boobalicious Babe of the Year
Spank Bank Awards – Nominee: Sexiest Painted Lady
Spank Bank Awards – Nominee: Best Vocals
Spank Bank Awards – Nominee: Bad Ass Brunette of the Year
Spank Bank Technical Awards – Winner: Most Likely To Growl While Fucking
Spank Bank Technical Awards – Winner: Best Spitter
XBiz Awards – Nominee: Best Scene – Gonzo Release, Brazzers House (2015)
XBiz Awards – Winner: Best Scene – Couples-Themed Release
XBiz Awards – Winner: Best Scene – Couples-Themed Release, My Sinful Life (2014)
XBiz Awards – Nominee: Female Performer of the Year
XRCO Awards – Nominee: Superslut of the Year
XRCO Awards – Nominee: Female Performer of the Year
2015 Award Wins and Nominations
AVN Awards – Nominee: Best Group Sex Scene, Baby Got Boobs 14 (2014)
AVN Awards – Nominee: Female Performer of the Year
AVN Awards – Nominee: Fan Award: Favorite Female Porn Star
AVN Awards – Nominee: Best Actress, Laws Of Love (2014)
AVN Awards – Nominee: Best Three-Way Sex Scene: G/B/B, Romi Rain Darkside (2014)
AVN Awards – Nominee: Best Group Sex Scene, Lola, dressage en orgie (2014)
AVN Awards – Nominee: Best Oral Sex Scene, SeXXXploitation Of Romi Rain (2014)
AVN Awards – Nominee: Best Solo/Tease Performance, SeXXXploitation Of Romi Rain (2014)
AVN Awards – Nominee: Best Group Sex Scene, Orgy Masters 4 (2014)
Inked Awards – Nominee: Best Oral
Inked Awards – Winner: Best Boobs
Inked Awards – Winner: Female Performer of the Year
Nightmoves Fan Awards – Nominee: Best Boobs
Spank Bank Awards – Nominee: The Contessa of Cum
Spank Bank Awards – Nominee: Sexiest Painted Lady
Spank Bank Awards – Nominee: Cocksucker of the Year
Spank Bank Awards – Nominee: Breakthrough Star of the Year
Spank Bank Awards – Nominee: Mattress Actress of the Year
Spank Bank Technical Awards – Winner: Total Jackoff Material
XBiz Awards – Nominee: Best Actress – Couples-Themed Release, Laws Of Love (2014)
XBiz Awards – Nominee: Female Performer of the Year
XBiz Awards – Nominee: Best Scene – Couples-Themed Release, Laws Of Love (2014)
XRCO Awards – Nominee: Best Actress, Laws Of Love (2014)
2014 Award Wins and Nominations
AVN Awards – Nominee: Best Group Sex Scene, Madison's Mad Mad Circus (2013)
AVN Awards – Nominee: Best Tease Performance, Soaking Wet (2013)
Inked Awards – Nominee: Best Ass
Inked Awards – Nominee: Feature of the Year
Inked Awards – Nominee: Best Boobs
Inked Awards – Nominee: Best Ink
Inked Awards – Nominee: Best New Starlet
Nightmoves Fan Awards – Winner: Best Ink
Nightmoves Fan Awards – Nominee: Best New Starlet
Nightmoves Fan Awards – Nominee: Best Boobs
XBiz Awards – Nominee: Best New Starlet
2013 Award Wins and Nominations
Sex Awards – Nominee: Hottest New Girl
XCritic Editor's Choice Awards – Winner: Special Recognition
Romi Rain Biography References