5'7″ / 105 lbs

32DD-24-30

Black / Hazel

26 Years Old
Some pornstars enter the porn industry quietly and make a name for themselves. Then there is Bonnie Rotten who burst onto the porn industry like a fireball. This Bonnie Rotten biography lets her fans get to know her better and appreciate this tattooed babe even more.
Bonnie started doing anal sex and has not slowed down since her debut. You may not be a tattoo fan, but after you see the energetic performance of Bonnie, you will find tattoos very sexy.
Alaina Hicks, Bonnie's real name, was born in Hamilton, Ohio and gets her sexy looks from her Italian, German, Polish and Jewish ethnicity. She was primarily raised by her grandparents.
She had her first sexual experience when she was 12 years old with a boy who was 13. By the time she was 16, Bonnie got her first experience with multiple partners. She admits that she was very sexually active at a young age and banging everybody and having sex with all of her girlfriends. The two main constants in her life have always been sex and skateboarding.
Bonnie's first tattoo was on her stomach which is a zombie from the Night of the Living Dead. She has about 33 tattoos on various parts of her sexy body.
She first got started in mainstream modelling doing pinup work and auto shows. She started dancing and won Miss Dead Indiana Beauty Pageant at the Indianapolis Days of the Dead horror convention. Bonnie also spent time working as model car and motorcycle model.
Bonnie Rotten's stage name comes from a pinup zombie that is tattooed on the back of her right leg.
Before Bonnie started in the adult industry, she did her research. She went to LA a few times, met a few contacts and attended the AVN porn conference where she met some people, and made some contacts. Bonnie felt like a sexual athlete and was looking a place where she be herself and not be judged.
Though Bonnie had plenty of sexual experience, she was still very nervous when she shot her first porn scene. By the time she did her fifth scene with Mike Adriano, which was an anal scene, she began developing her porn personality and started becoming more confident in front of the camera.
Along with her porn work, Bonnie has appeared in a few music videos for groups such as Steel Panther, My Darkest Days, and Chris Brown.
We now share some more sexy details in this part of the Bonnie Rotten biography.
Bonnie really loves getting drilled in her ass and looking into someone's eyes. She loves seeing the sweat move down their face. She loves spitting and getting messy in her porn scenes.
She really cums during her scenes and says that she usually cums 4 to 6 times.
Bonnie also known for being an epic squirter when she cums. She had managed to do this previously a few times before porn, but was with someone who knew how to finger her perfectly. Then Bonnie met Veronica Avluv who showed Bonnie how to control her pussy muscles and squirt like a champ. When she is about to cum, Bonnie tightens her muscles and pushes to get maximum squirtage.
She does not have a problem performing with older men. Older men know how to fuck her properly and give her intense pleasure.
Bonnie does enjoy watching her own porn scenes. She does this to critique her own work, and also masturbates to herself getting fucked.
She doesn't have much sex off camera, as she has a very active porn shoot schedule.
When a guy cums, she likes it to go in her mouth. She considers the cumshot her present, and she gets to have it where she likes.
Bonne has done a lot, but hasn't done interracial, double vag, or double anal. She also has a fantasy of fucking a dude in the ass. She has porn bucket list that still needs checking off.
Her ultimate fantasy is to get gang banged by a group of Spanish men. She would want to be continuously, non-stop fucked and squirt all over them.
In her off time, Bonne hangs out with Riley Reid, Samantha Saint, and Teagan Presley.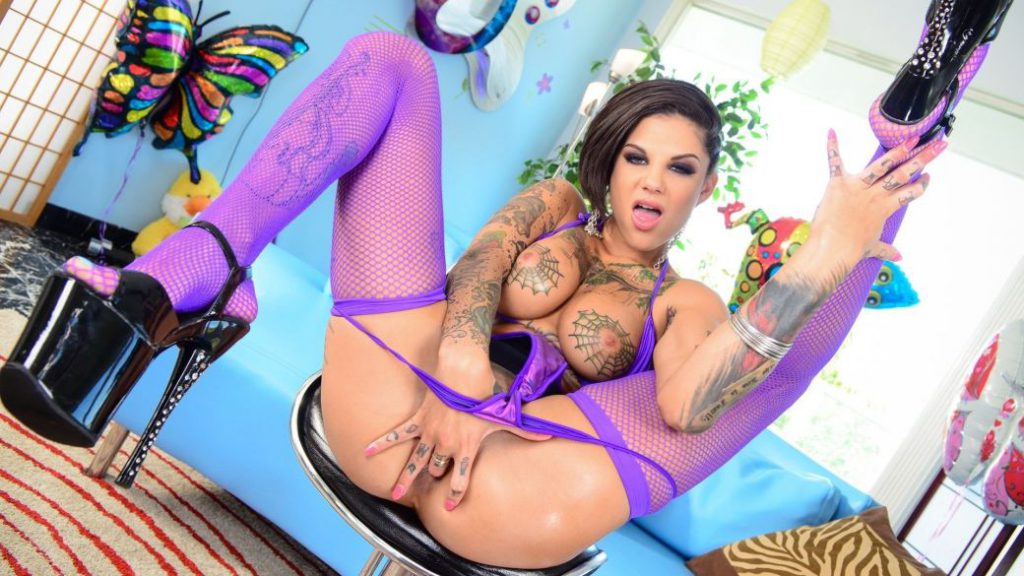 The first thing you notice about Bonnie Rotten are the knocking figure of her figure. When Bonnie gets her hands on a fat dick, she always sucks as deep as she can, whirling her tongue around the crown while tugging hard and fast on the shaft. With blowjob abilities to suck an orange through a straw, Bonnie's body of sexy scenes are cherished by fans of stunning nymphos worldwide.
She's earned herself an ever-expanding base of loyal supporters, thanks to her gorgeous body and high intensity blow scenes. Whether she is buried deep in snatch, taking it balls deep in her tight butt, or wrapping her large enticing mouth around a big dick, this vixen gives it everything she has got. Bonnie is one of the best newcomer pornstars because there's no cock too large for this busty blonde fox to handle, and she's shown off her dick-sucking, cock riding prowess in all kinds of scintillating scenes. Definitely a girl to watch as she plows and sucks her way through the porn biz.
Bonnie Rotten joined the porn world in 2012. When Bonnie initially entered the adult industry, she was 19 years old. Over 9 years, and 292 porn scenes later, Bonnie Rotten is still wanting to fuck some more dick, and stroke some more pussy. Some of Bonnie Rotten's most latest hot screaming orgasms can be found in 2 Dicks Are Better Than 1 by Evil Angel, and Best Of Brazzers: Meanest Lesbians by Brazzers Network.She has been nominated for 114 awards and has acquired a few. Some of her more latest awards include the 2014 AVN Award for Best Group Sex Scene, Gang Bang Of Bonnie Rotten (2013), the 2014 AVN Award for Female Performer of the Year and the 2015 AVN Award for Fan Award: Kinkiest Performer.
Bonnie Rotten Biography Summary
Bonnie Rotten was born in Cincinnati, OH, USA on May 9, 1993 which makes her a Taurus. Her measurements are 32DD-24-30, she weighs in at 105 lbs (48 kg) and stands at 5'7″ (170 cm). Her body is slim with fake/enhanced 32E round tits. She has sparkling hazel eyes and thick black hair.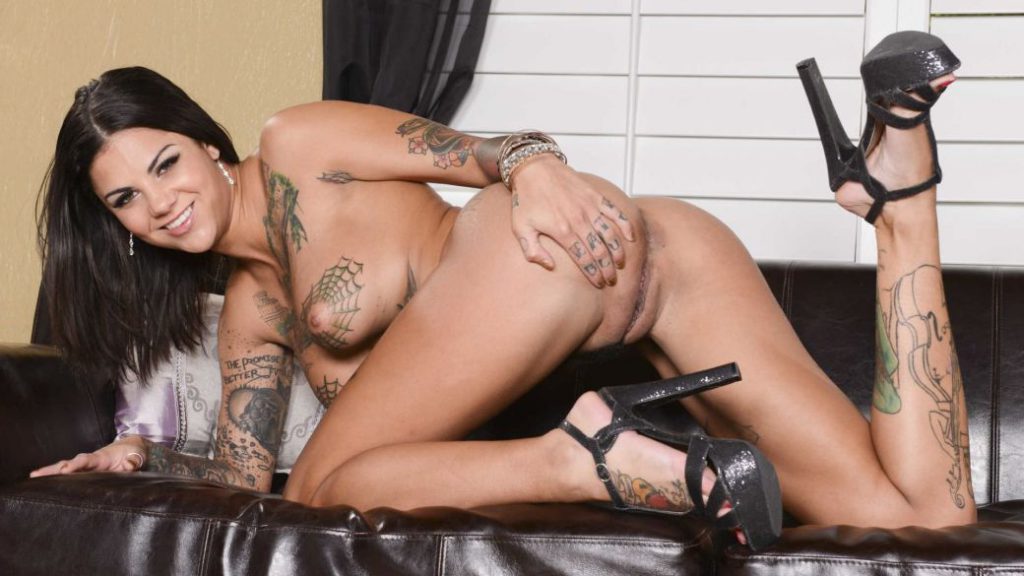 Bonnie Rotten Biography Awards
2020 Award Wins and Nominations
Spank Bank Awards – Nominee: Super Squirter of the Year
Spank Bank Awards – Nominee: Best Body Built For Sin
2019 Award Wins and Nominations
AVN Awards – Nominee: Best Double Penetration Sex Scene, Bonnie Rotten: The Cumback (2018)
Altporn Awards – Nominee: Female Performer of the Year
PornHub Awards – Nominee: Splash Zone Top Squirting Performer
Spank Bank Awards – Nominee: Tattooed Temptress of the Year
Spank Bank Awards – Nominee: Two Peas in a Pod (Double Pussy Precisionist)
Spank Bank Awards – Nominee: Super Squirter of the Year
Spank Bank Technical Awards – Winner: Cumback of the Year
2018 Award Wins and Nominations
Inked Awards – Nominee: Best Ink
2017 Award Wins and Nominations
XBiz Awards – Nominee: Best Sex Scene – All-Girl, Secret Lesbian Diaries 4 (2016)
2016 Award Wins and Nominations
AVN Awards – Nominee: Best Sex Scene in a Foreign-Shot Production, Bonnie vs. Rocco (2015)
AVN Awards – Nominee: Best Three-Way Sex Scene: G/G/B, Rocco's Intimate Initiations (2014)
AVN Awards – Nominee: Fan Award: Favorite Female Porn Star
AVN Awards – Nominee: Fan Award: Social Media Star
AVN Awards – Nominee: Mainstream Star of the Year
AVN Awards – Nominee: Best Anal Sex Scene, American Whore Story (2015)
AVN Awards – Nominee: Best Actress, Sisters of Anarchy (2014)
Spank Bank Awards – Nominee: Two Hot Dogs in a Hallway
Spank Bank Awards – Nominee: The Dirtiest Player in the Game
Spank Bank Awards – Nominee: Super Squirter of the Year
Spank Bank Awards – Nominee: Sexiest Painted Lady
Spank Bank Awards – Nominee: Hardest Working Ho in Ho Biz
Spank Bank Technical Awards – Winner: Best Baby Bump Pics
XBiz Awards – Nominee: Best Scene – All-Girl, Performers of the Year 2015 (2015)
XRCO Awards – Nominee: Mainstream Adult Media Favorite
2015 Award Wins and Nominations
AVN Awards – Nominee: Mainstream Star of the Year
AVN Awards – Nominee: Best Anal Sex Scene, Climax (2014)
AVN Awards – Nominee: Best Actress, Cape Fear XXX (2014)
AVN Awards – Nominee: Most Outrageous Sex Scene, Destruction of Bonnie Rotten (2014)
AVN Awards – Nominee: Best Double Penetration Sex Scene, Bonnie Rotten Is Squirtwoman (2014)
AVN Awards – Nominee: Best Girl/Girl Sex Scene, 4Ever (2014)
AVN Awards – Nominee: Best Group Sex Scene, BonnieLand: A Gangbang Fantasy (2014)
AVN Awards – Nominee: Best Director: Parody, Cape Fear XXX (2014)
AVN Awards – Nominee: Best Three-Way Sex Scene: G/G/B, Squirt in My Face (2014)
AVN Awards – Nominee: Fan Award: Best Boobs
AVN Awards – Nominee: Fan Award: Favorite Female Porn Star
AVN Awards – Winner: Fan Award: Kinkiest Performer
AVN Awards – Nominee: Fan Award: Social Media Star
AVN Awards – Nominee: Female Performer of the Year
Inked Awards – Nominee: Best Ink
Inked Awards – Nominee: Best Female Performer
Inked Awards – Nominee: Female Performer of the Year
Inked Awards – Winner: Best Girl-Girl Scene
Inked Awards – Nominee: Best Girl-Girl Scene, Cape Fear XXX (2014)
Inked Awards – Nominee: Best Anal Performer
Inked Awards – Nominee: Scene of the Year, Hollywood Xposed (2015)
Inked Awards – Winner: Best Girl-Girl Scene, Twisted Lesbian Anal Spit Play (2014)
Nightmoves Fan Awards – Winner: Best Ink
Nightmoves Fan Awards – Nominee: Best Female Performer
Spank Bank Awards – Nominee: Bad Ass Brunette of the Year
Spank Bank Awards – Nominee: Tweeting Twat of the Year
Spank Bank Awards – Nominee: DP Diva of the Year
Spank Bank Awards – Nominee: Hardest Working Ho in Ho Biz
Spank Bank Awards – Nominee: Mattress Actress of the Year
Spank Bank Awards – Nominee: Most Spanked To Girl of the Year
Spank Bank Awards – Nominee: Sexiest Painted Lady
Spank Bank Awards – Winner: Super Squirter of the Year
Spank Bank Awards – Nominee: The Contessa of Cum
Spank Bank Awards – Nominee: Two Hot Dogs in a Hallway
Spank Bank Awards – Nominee: Asshole (The Sexy Kind) of the Year
Spank Bank Technical Awards – Winner: America's Favorite Pole Dancer
Spank Bank Technical Awards – Winner: Dirtpipe Gangsta
XBiz Awards – Nominee: Director of the Year – Non-Feature Release, BonnieLand: A Gangbang Fantasy (2014)
XBiz Awards – Nominee: Female Performer of the Year
XBiz Awards – Nominee: Best Scene – Parody Release, Rambone XXX: A Dreamzone Parody (2013)
XRCO Awards – Nominee: Superslut of the Year
XRCO Awards – Nominee: Orgasmic Oralist of the Year
XRCO Awards – Nominee: Orgasmic Analist of the Year
XRCO Awards – Nominee: Female Performer of the Year
XRCO Awards – Nominee: Best Director: Parody
XRCO Awards – Nominee: Best Actress, Cape Fear XXX (2014)
2014 Award Wins and Nominations
AVN Awards – Nominee: Best All-Girl Group Sex Scene, Brazzers Presents: The Parodies 3 (2013)
AVN Awards – Nominee: Best Girl/Girl Sex Scene, Beyond Fucked: A Zombie Odyssey (2013)
AVN Awards – Winner: Best Group Sex Scene
AVN Awards – Nominee: Best POV Sex Scene, Lesbian Anal POV 2 (2013)
AVN Awards – Nominee: Best Safe Sex Scene, Hotel No Tell 1 (2013)
AVN Awards – Nominee: Best Tease Performance, Hot Body Ink (2013)
AVN Awards – Nominee: Best Three-Way Sex Scene: G/B/B, Whore's INK (2013)
AVN Awards – Nominee: Best Three-Way Sex Scene: G/G/B, Obedience School (2013)
AVN Awards – Winner: Female Performer of the Year
AVN Awards – Nominee: Best Anal Sex Scene, Evil Anal 19 (2013)
AVN Awards – Winner: Best Group Sex Scene, Gang Bang Of Bonnie Rotten (2013)
Erotic Lounge Awards – Nominee: Fan Award: Beste Darstellerin
Inked Awards – Winner: Best Ink
Inked Awards – Nominee: Female Performer of the Year
Inked Awards – Nominee: Best Adult Film Star Feature Dancer
Inked Awards – Nominee: Best Female Performer
Inked Awards – Nominee: Perfect Vagina
Inked Awards – Nominee: Social Media Queen
Inked Awards – Nominee: Best Tits
Nightmoves Fan Awards – Winner: Best Female Performer
Nightmoves Fan Awards – Nominee: Best Adult Film Star Feature Dancer
Nightmoves Fan Awards – Nominee: Best Ink
Spank Bank Awards – Nominee: Fucking Nerd of the Year
Spank Bank Awards – Nominee: Breakout Star of the Year
Spank Bank Awards – Nominee: Asshole (The Sexy Kind) of the Year
Spank Bank Awards – Nominee: Best Body
Spank Bank Awards – Nominee: Most Spanked To Girl of the Year
Spank Bank Awards – Nominee: Tweeting Twat of the Year
Spank Bank Awards – Nominee: Sexiest Woman Alive
Spank Bank Awards – Nominee: Protoype Sexual Cyborg of the Future
Spank Bank Awards – Nominee: Sexiest Painted Lady
Spank Bank Awards – Nominee: The New Definition of 'Sexy'
Spank Bank Awards – Nominee: Most Comprehensive Utilization of All Orifices
Spank Bank Awards – Nominee: Gangbanged Princess of the Year
Spank Bank Technical Awards – Nominee: Female Performer of the Year
Spank Bank Technical Awards – Nominee: Kink Performer of the Year
TLA RAW Awards – Nominee: Best Female Newcomer
TLA RAW Awards – Nominee: Female Performer of the Year
Venus Awards – Winner: Best Actress International
XBiz Awards – Nominee: Female Performer of the Year
XBiz Awards – Nominee: Best Scene – Non-Feature Release, Gang Bang Of Bonnie Rotten (2013)
XBiz Awards – Nominee: Best Scene – Vignette Release, Obedience School (2013)
XRCO Awards – Nominee: Orgasmic Oralist of the Year
XRCO Awards – Winner: Superslut of the Year
XRCO Awards – Nominee: Female Performer of the Year
XRCO Awards – Nominee: Orgasmic Analist of the Year
2013 Award Wins and Nominations
AVN Awards – Nominee: Best New Starlet
AVN Awards – Nominee: Best All-Girl Group Sex Scene, Meet Bonnie (2012)
AVN Awards – Winner: Rompable Starlet
Erotic Lounge Awards – Nominee: Fan Award: Beste Darstellerin
Inked Awards – Nominee: Best Body
Inked Awards – Nominee: Best Female Performer
Inked Awards – Nominee: Best Social Media Star
Inked Awards – Nominee: Best Ink
Inked Awards – Winner: Female Performer of the Year
Inked Awards – Winner: Scene of the Year, Gang Bang Of Bonnie Rotten (2013)
Inked Awards – Winner: Scene of the Year
Sex Awards – Nominee: Hottest New Girl
Spank Bank Technical Awards – Nominee: New Starlet of the Year
XBiz Awards – Nominee: Best Scene – Gonzo/Non-Feature Release, Meet Bonnie (2012)
XCritic Editor's Choice Awards – Winner: Female Performer of the Year
XRCO Awards – Nominee: Cream Dream of the Year
XRCO Awards – Nominee: New Starlet of the Year
2012 Award Wins and Nominations
Inked Awards – Winner: Starlet of the Year
RogReviews' Critics Choice Awards – Nominee: Best Newbie
Bonnie Rotten Biography References